SVHX12 – Tag Axle Hydrovac
The SVHX12 Hydrovac comes with or without winterization to fit the entire North American Market including Canada and the USA. This lightweight powerhouse provides lots of payload and performance. Excellent noise reduction with an optional acoustic enclosure and a self-steering pusher axle make the SVHX12 hydrovac a breeze to drive and operate. Its powerful blower creates a full vacuum (28"Hg) and therefore pulls material like you wouldn't expect.
We believe in our equipment and so do our customers. You'll benefit from our expertise and innovation in the vacuum truck and hydrovac industry. Get in touch with us and tell us about your needs.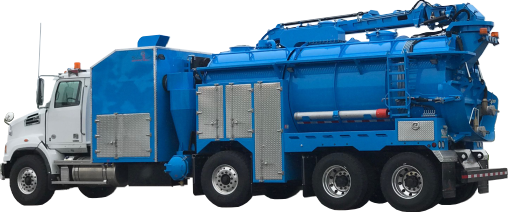 Debris and Water Tank
The SVHX12 is a tandem 12-yard hydrovac combined with a self-steering pusher axle. The hydraulically opening rear door allows fast dumping and hustles free washdown of the truck at the end of a job day.  The 1200 US gallons water capacity allows to fill the debris tank, whilst reducing weight being hauled. Due to its superior design, the SVHX12 hydrovac offers an excellent driving experience. The weight distribution allows for an optimum balance between front and rear axles making it not only safe but increases the payload whilst keeping the driving experience at a maximum.

Cabinets and Storage
The SVHX12 hydrovac comes with a lot of storage. With the optional exclusion of the winter package, you'll get one more storage cabinet that would otherwise be occupied by the boiler. Nevertheless, the standard variant with the winter package offers lots of room to store tools and equipment. The heated and insulated cabinets include the control center and the water pump, keeping you freeze free even in the harshest of conditions. Furthermore, you have the option to glycol the water system just by simply turning a valve. It's easy as that. The SVHX12 hydrovac comes with functionality throughout.
More Power – Less Weight
The SVHX12 was designed to bring you the full advantage in a bigger and lighter body. Lighter and more powerful than its siblings, the SVHX12 is the number one unit for your toughest jobs in the city or in the fields. Cut your costs and bump up your profits. This hydrovac truck performs and provides massive time and fuel savings over time. The whole layout is tailored with the operator in mind. Fast dumping, easy operations, and preparations will make the SVHX12 your operators new favorite hydrovac. Give us a call to set up a demo appointment.
SVHX12 Hydrovac Truck – Supported Areas USA
Alabama | Alaska | Arizona | Arkansas | California | Colorado | Connecticut | Delaware | Florida | Georgia | Idaho | Illinois | Indiana | Iowa | Kansas | Kentucky | Louisiana | Maine | Maryland | Massachusetts | Michigan | Minnesota | Mississippi | Missouri | Montana | Nebraska | Nevada | New Hampshire | New Jersey | New Mexico | North Carolina | North Dakota | Ohio | Oklahoma | Oregon | Pennsylvania | South Carolina | South Dakota | Tennesee | Texas | Utah | Vermont | Virginia | Washington | West Virginia | Wisconsin | Wyoming
SVHX12 Hydrovac – Supported Areas Canada
Quebec | Ontario | Manitoba | Saskatchewan | Alberta | British Columbia, BC | Territories